Submitting Content for Translation from Sitecore Search Results
You can send content items from Sitecore search results to the Bulk Translation wizard. In the Bulk Translation wizard, you can choose to send these content items:
directly to a translation provider
to the Translation Queue, so that you can send them to a translation provider later
copy the source files to the target version without translation
To send content for translation from Sitecore search results:
In the Sitecore Content Editor, in the content area, click the Search icon to open the Search tab, so that the Search bar and button are displayed.

In the Search field, enter the keywords that characterize the items that you want to search for, or build a query, and then click Search. For detailed instructions on searching in Sitecore, refer to the Sitecore documentation, at: https://doc.sitecore.net/sitecore_experience_platform/content_authoring/searching/search_for_an_item.

After the search results are displayed, click the More Search Options icon on the left side of the Search field, and select Search Operations from the expanding menu.
The menu expands further.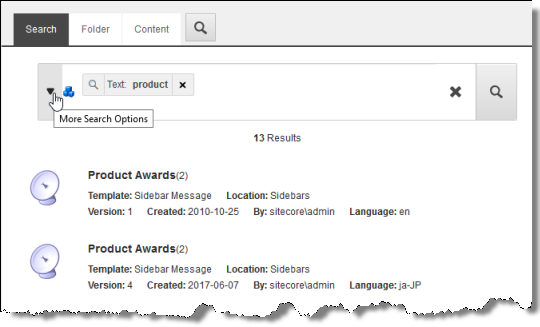 Under Search Operations, click the Translate link.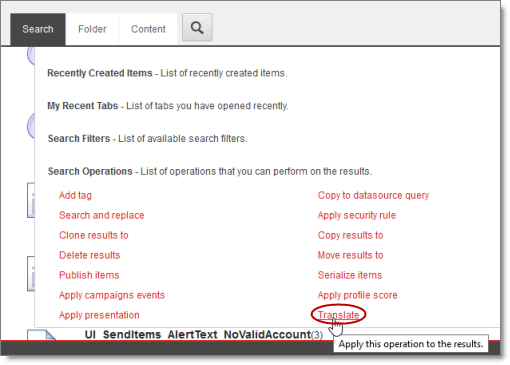 The Bulk Translation wizard opens.
Follow the steps in the Bulk Translation wizard to send the content items directly to your translation provider, to the Translation Queue, or to copy the source items to the target version without translation. For detailed instructions, see Sending Multiple Content Items for Translation.
Note: In the Bulk Translation wizard, ensure that in the Settings page, in the Items to send section, you do not change the default selection of Select items to send. On the next page of the wizard (the Choose Items page), the items from the Sitecore search results are automatically selected.