Clearing Backup Data
You can delete all the backup data used by the Translation Correction and Update Remote TM features. You can delete the backup data from either the Sitecore Content Editor or the Sitecore Desktop.
Do one of the following to open the Translation Data Cleanup wizard:
In the Sitecore Content Editor ribbon, click the Lionbridge Translation tab, and then in the Translation Tools section, click Clear Backup Data.

In the Sitecore Desktop, click the Sitecore menu, and then select All Applications > Lionbridge Translation > Clear Backup Data from the menu.
The Delete Lionbridge Connector Translation Backup Data page of the wizard opens.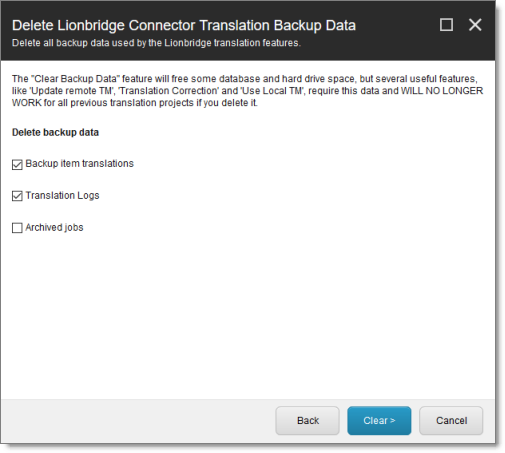 Select the types of backup data to delete:
Backup item translations: Individual content item translations at the field level.
Translation logs: Log files of all the events that occurred in a translation job.
Archived jobs: Data in archived jobs.
Click Clear.
A warning message box opens.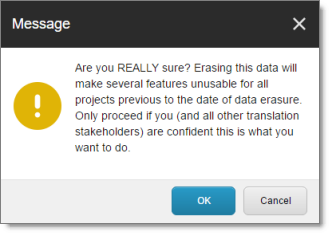 If you are sure you want to delete the backup data, click OK.
The summary page of the wizard opens, displaying the number of each type of backup file you deleted.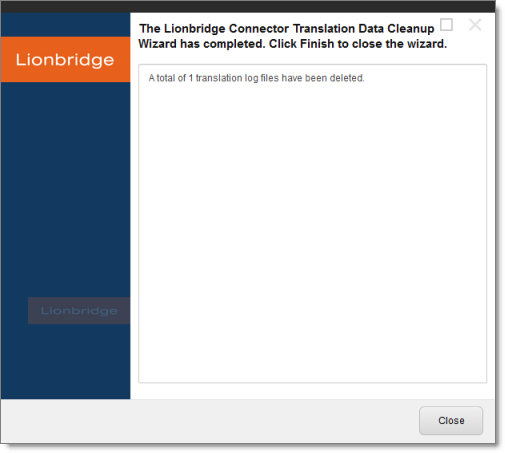 Click Finish to close the wizard.