Sorting by Column
By default, items in a list are displayed by alphabetical order of the item in the first column of the list.
You can sort items in a list by any column. For example, suppose that you want to display all content items by language.
Click the column heading.
For example, click the Language column heading.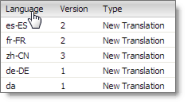 The first time you click in the column heading, the column contents are sorted in ascending order. The arrow in the column heading indicates the sort order.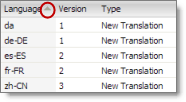 If you want to reverse the sort order, click again in the column heading.