Sitecore User for Connector Background Processes
You can specify the Sitecore user that the Connector uses to run its background processes. This user will be displayed as the user who modified an item's target version.
Note: If you do not configure this feature, the Connector uses the Anonymous user.
To configure the Sitecore user for Connector processes:
In the Content Editor, in the content tree, navigate to the /sitecore/system/Settings/Lionbridge Settings/Lionbridge Connector Settings item.
Tip: Scroll down to the bottom of the Settings folder to locate the Lionbridge Settings sub-folder.
Click the Lionbridge Connector Settings item in the folder to select it and open it in the content area.

Locate the Security - User context for services section, and click the arrow in the top-right corner to expand it.

Click Select.
The Associated Sitecore User dialog box opens.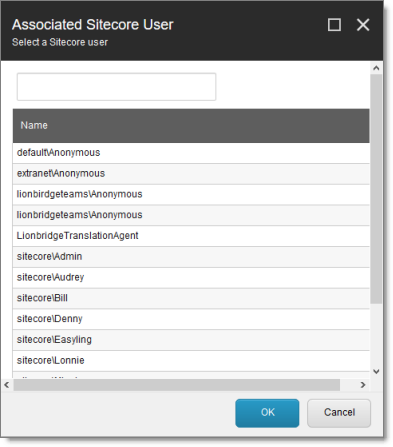 Click to select the Sitecore user to run the Connector background processes.
Recommendation: Select the LionbridgeTranslationAgent user. This user is installed by default when installing the full Connector package.
Click OK to save your selection.

Click the Save button in the top-left corner to save your changes.