Viewing and Updating Your Support Ticket in Zendesk
Important: You must log into Zendesk to view your support tickets there.
Open the Lionbridge Connector Zendesk page in your browser: https://connectors.zendesk.com.

Enter your credentials, and click Sign in.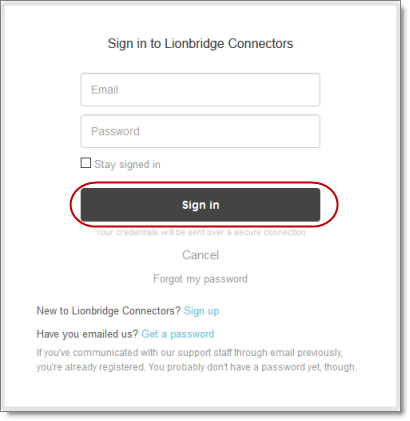 Note: If you do not have sign-in credentials yet, then click either Sign up or Get a password, and follow the onscreen instructions.
After signing in, click My activities to view the tickets you opened or where you are cc'd.

To update tickets, you can reply or attach files.
For more information, refer to "Submitting and tracking support requests" in Zendesk's Help Center guide for end-users, at: https://support.zendesk.com/hc/en-us/articles/203664386-Help-Center-guide-for-agents-and-end-users.
Important: Zendesk refers to a support ticket as a support request. These terms are interchangeable.