Configuring Email Notification Groups
An email notification group facilitates sending email notifications about jobs to the same group of users. You can create and edit email notification groups. When sending jobs for translation, you can select an existing group and create or edit a group. For detailed instructions, refer to the Lionbridge App for Oracle Eloqua User Guide.
To create an email notification group:
In the Site Administration menu on the left, click Notification Groups.
The Site Email Notification Group page opens, displaying any email notification groups configured for your Oracle Eloqua site.

To create a new email notification group, click New Group.
Notes: To update an existing email notification group, click Edit for that group. To delete an email notification group, click Delete for that group. A message box prompt you to confirms that you want to delete this group. Click OK to proceed.
The New Email Notification Group dialog box opens.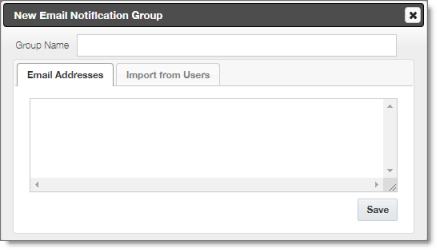 Note: If you clicked Edit, the Edit Email Notification Group dialog box opens instead. Aside from the title, it is identical to the dialog box described below.
In the Group Name field, enter the name of the email notification group. This is the name that will be displayed to users when they send out jobs for translation.

Do one or both of the following:
In the Email Addresses tab, enter the email addresses that will receive email notifications about jobs when this email notification group is selected. Enter each email address on a separate line.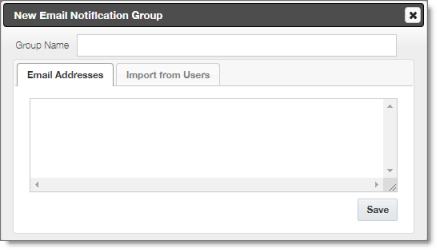 Click the Import from Users tab.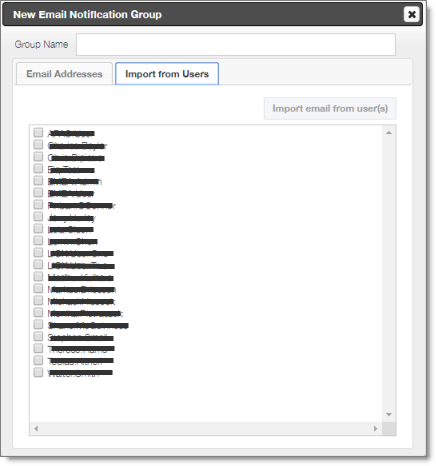 By default, this tab displays the names of any users who were previously either imported from Oracle Eloqua into the Lionbridge App or added manually to the App.
Select the check boxes of any users whose email addresses you want to add to this group.

Click Import email from user(s).

Click Save.
The Lionbridge App imports each selected user's username and email address.