Viewing App Information and Usage Data
You can view information about your Lionbridge App site and usage on the My Site page in CloudBroker.
To view data about your company's Lionbridge App usage:
In the Site Administration menu on the left, ensure that My Site is selected, so that the My Site page is open. This is the default selection when you log into CloudBroker as a site administrator.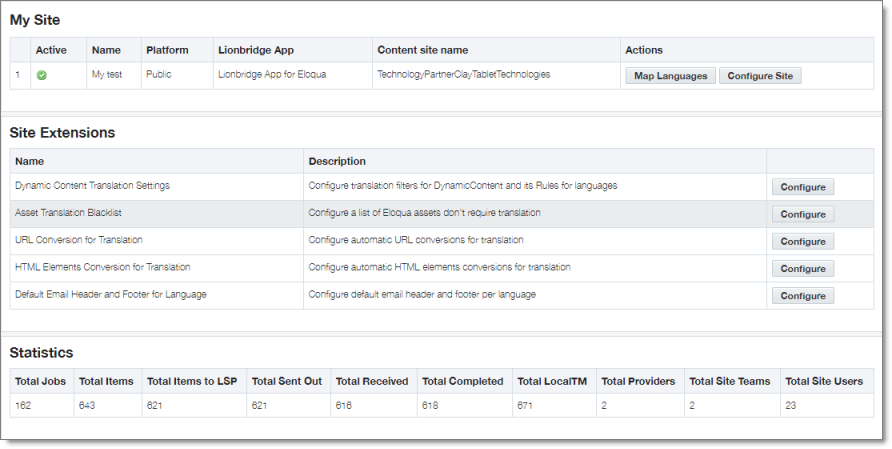 The top section of the page displays the following information about the Lionbridge App:
Column
Description
Active
The Lionbridge App's current status. This is one of the following:

* Active: The Lionbridge App is currently running.
* Inactive: The Lionbridge App is not currently running.
Name
The name that Lionbridge Connector personnel assigned to your company's site.
Platform
The type of CloudBroker platform that your company site uses. The platform is the connectivity platform that receives and routes content from content systems to translation providers and back during implementation. There are two types:

* **Public:** Your company site uses the public platform, which is for production usage.
* **Testing:** Your company site uses the testing platform, which is for pre-production usage.
Lionbridge App
The Lionbridge plug-in that connects the Eloqua content system to the Clay Tablet. This is the Lionbridge App for Oracle Eloqua.
Name in Content System Site
This is the company name in Oracle Eloqua.
For information about the Map Languages and Configure Site buttons, see Configuring the Lionbridge App in CloudBroker.
The Statistics section of the page displays the following information about items processed by the Lionbridge App:
| Column | Description |
| --- | --- |
| Total Jobs | The total number of translation jobs that the Lionbridge App sent out for translation. |
| Total Items | The total number of translation requests (each source and target language pair is a separate item) from Lionbridge App users. This includes items the Lionbridge App sent out to a translation provider, items translated by localTM (translation memory) , and items that did not require translation. |
| Total Items to LSP | The total number of items (each source and target language pair is a separate item) that the Lionbridge App sent out for translation to a translation provider. |
| Total Sent Out | The total number of files that the Lionbridge App sent out for translation. |
| Total Received | The total number of files that the Lionbridge App received back from translation. |
| Total Completed | The total number of items (each source and target language pair is a separate item) for which the translation is complete. |
| Total LocalTM | The total number of items in the local translation memory's database. |
| Total Providers | The total number of translation providers configured in the Lionbridge App. |
| Total Site Teams | The total number of teams set up in the Lionbridge App. |
| Total Site Users | The total number of users set up in the Lionbridge App. |