Getting Started with the Connector for Episerver
The Connector supports all web browsers that Episerver supports. The Connector supports Episerver versions 10 and 11.
To access the Connector: 
Log into Episerver.

In the top-left corner, click CMS.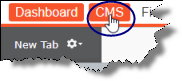 In the menu that opens, click Edit.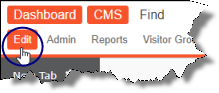 In the top-right corner, click the Toggle assets pane folder icon.

The Assets pane opens.
If the Lionbridge Connector gadget is collapsed, click it to expand it.
The Lionbridge Connector gadget opens. It contains basic Connector functionality, including creating a translation project. For a detailed description of the gadget, see The Connector at a Glance.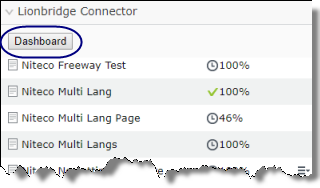 Optional. Do one of the following to open the Lionbridge Connector Dashboard ("Dashboard"), which has enhanced Connector functionality:
Click the Dashboard button near the top of the gadget.

In the bottom-right corner of the gadget, click the Settings icon , and then select Dashboard from the context menu.

The Lionbridge Connector Dashboard opens in the system workspace. For a detailed description of the Dashboard, see Monitoring Translation Projects.

Tip: Click the Pin icon to keep the Lionbridge Connector open by default in future sessions.