Configuring Target XML and Source XML
Before you can use the Connector, you must configure source.xml and target.xml. These are available with your Lionbridge license. Ensure that you have this information before proceeding.
The Connector uses the CMS address key, which is in source.xml, to move the files your company exports from Episerver to the Clay Tablet Platform. The Platform then forwards your exported files to your translation provider. If you have multiple Episerver installations, there must be one key (file) for each environment. Very important: Do not copy the CMS address keys to multiple instances, because this is a violation of the License Agreement. Using the same CMS address keys on multiple instances will cause the Lionbridge App or Connector to behave unexpectedly, which can result in lost translation content, orphaned projects, and inaccurate translation status reports. The Lionbridge Connector team will support technical issues caused by duplicating or incorrectly installing CMS address keys only on a time and materials basis.
Note: The Connector always initiates calls to the Clay Tablet Platform. However, the CMS address keys enable establishing a secure, discrete connection between the Connector instance and the Platform. They also support the return of files from translation.
Your company's platform key is in target.xml. This is your company's license for the Clay Tablet Platform.
To configure source.xml and target.xml:
In the bottom-right corner of the Lionbridge Connector gadget in the right pane, click the Settings icon , and then select Settings from the context menu.

In the Workspace settings tab, edit the Target XML and Source XML fields.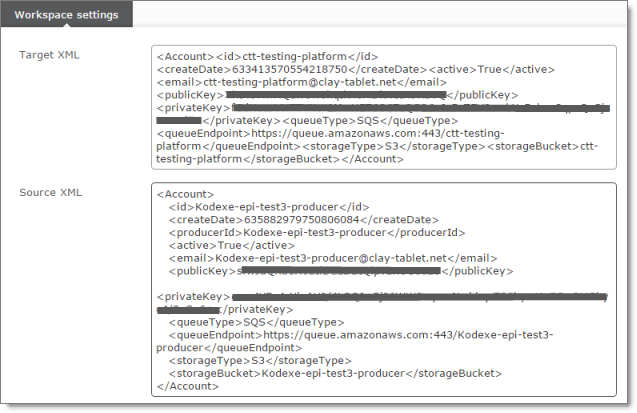 Episerver automatically saves your changes.