Sending Pages for Translation from Adobe Experience Manager Sidekick
Note: This section is only applicable for the users who are using AEM on-premise version older than AEM 6.4.
If you are using the Adobe Experience Manager Classic UI, you can send individual pages of content for translation directly from the Adobe Experience Manager Sidekick.
Tip: This method is ideal for ad-hoc translations or for sending small amounts of content for translation.
Note: If one or more paths are configured for your team profile, you can send only pages that are in those paths for translation.
To sending pages for translation from Sidekick:
Double-click a page to open it with Sidekick, which is a floating toolbar.

In Sidekick, click the Page tab .

In the Page tab, scroll down and click the Translate Content option.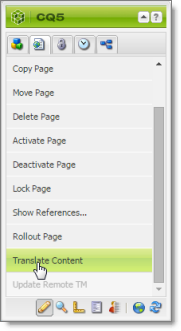 The Connector's Sidekick translation request interface opens. One of four possible Sidekick user interfaces is displayed, depending on your company's configuration: there are two single-page (simple) interfaces and two multiple-page (wizard) interfaces.
Use the following table to determine which user interface is displayed for your company: